The perfect combination of
​​​​​​​Mind and hands
Robert has only the very last part of his apprenticeship left at Vola. He can then call himself an Industrial Technician – the subject he's been fascinated by since he was a child. Once qualified, he starts in his father's machine shop. But if that weren't enough to make dad proud, Robert is also a "DM i Skills" bronze medal winner.
Calculations + goals = enthusiasm
Industrial Technician? In essence, it means you can make everything in metal and plastic. In fact, an industrial technician is one of the most technical educations around. And that suits Robert to a tee.
"I love nerding out to math. And science has interested me for as long as I can remember."
He explains why with infectious enthusiasm:
"All solutions are built on solid calculable facts. And for me, nothing beats reading a technical drawing or doing a triangular calculation to find out a construction's dimensions. "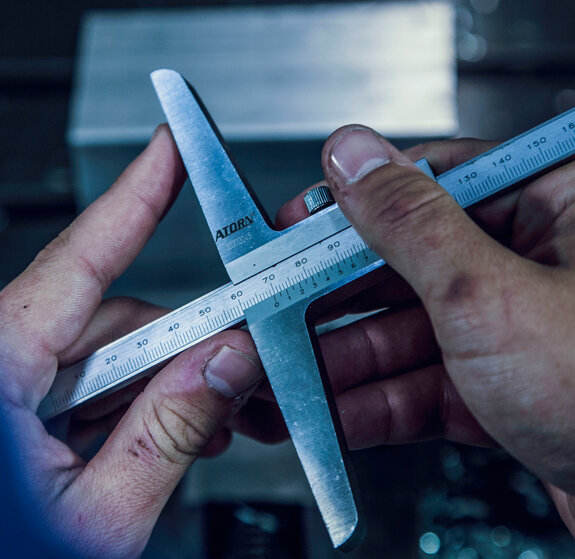 "
I love nerding out to math. And science has interested me for as long as I can remember.
​​​​​​​"
We don't source parts.
We make them.
Vola produces high quality taps, originally designed by Arne Jacobsen for the National Bank of Denmark in 1968. Primarily an architect, Jacobsen was known for also designing the interior fittings and furniture for his buildings. His attention to detail was unmatched. And it required specialist machinery. So, among other things, Vola's factory in the city of Horsens stands out for manufacturing many of its own machines. And it is these machines that Robert and his 12-man tool department service and produce spare parts for.

"We develop and make the parts for our production equipment ourselves," he explains with pride, "because you can't just buy them on a website. It could be a grabber for a robot or a small machine part that has worn out with use. They have to be replaced for the machine to run optimally again."

"I also fix my colleagues' tools and keep the machines running. This is when you see the direct impact of your work. Because if you've done a good job, the machine will perform at its best. If you get it wrong, it won't. We are lucky enough to make some of the world's finest fixtures here on site, and they all demand focus and precision."
Human
and machine
Most of Robert's work is done by a computer. For example, when he drafts the drawings for a solution.

"This isn't as much of a hands-on craft as it once was. Today, we have CNC [computerised numerically controlled] machines to do the monotonous repetitive work.

The machines remove materials, rotate and cut. Making it happen through computer control frees us up to focus on the nerdy-work aka the math. And that's what I love about my job. I get to use my brain and It's pretty high-tech."
Father
and son
In August, when Robert finishes his apprenticeship, he will leave Vola and start in his father's business – when a young man and source of pride will come home.

Robert became a Danish vocational champion in a contest where only the most talented young technicians compete. "The requirements have been tightened up and it's really tough.

"Robert's school subject teacher recommended him for the local and then the regional championship, where he had to qualify for the nationals. The competition itself was judged by the amount of parts produced, while milling as close to set tolerances as possible. And Robert won the bronze medal. So, his father is not only looking forward to his son helping out. He thinks Robert will take the business to new levels, bringing all of the excellence and knowledge he gathered at Vola.
Construction models
and role models
During the course of his apprenticeship, Robert has crossed the paths of many talented teachers and colleagues. He has deep respect for all of them, as they have given him the opportunity to become proficient in his subject.

"Skilled teachers demand a lot from apprentices like me, but they also dare to let us take the leap. They have to guide, but they must also allow us the freedom to find our way. And of course, pass on the knowledge we lack. I have had very good teachers and fantastic role models. In other words, incredible colleagues who are always willing to offer their support. That's pretty cool."
Clothing for the workshop and the high street
With heaps of contagious energy to carry around, and sometimes demanding work conditions to navigate, Robert often has his hands full. Luckily his KANSAS clothing has his back.

He can't survive without his trusted T-shirt pocket, "it's for screws and the slide gauge I always carry."But other than that, Robert's main clothing requirement is a pleasingly cool climate:
"In the summer, it's extremely warm here, even with the air conditioning. So, it is important that I can breathe in my clothes and that they are comfortable to wear. The clothes must also be able to take some knocks: abrasions, splinters from milling, cooling water, various oils, machine washing every other day. And then we crawl around a lot, so pants are a must!"

So, Robert's pants are cut in Flexforce. An intelligent stretch fabric that can handle everything you throw a it, without compromising on movement. The material has an extremely high abrasion and tear strength, handling, for example, Robert's metal splinters. And Flexforce is also dirt, oil and water resistant – while being soft and comfortable to wear.

All that aside, Robert can't deny the fact that vanity sometimes plays its part as well:
"In the summer I work in a T-shirt, in the winter in a hoodie. I like my KANSAS polos. They're stylish enough to wear while walking through the city. Yes, I do have a life away from work," laughs Robert.