Where craftsmanship and art cross over
Painter Heidi Zilmer is a master in the art of transformation. Not only does she create the most amazing effects in the rooms she's working in, she is also an impressive example of how passion and professionalism can go hand in hand to promote a craft.
gold leafs - the ultimate masterpiece
Gold leaf is between one seven thousandth and one nine thousandth of a millimetre thick. Once it's on the brush, you can't afford to have shaking hands. Heidi Zilmer is well underway with the process of gold-plating a sun lounge in a patrician villa in Aarhus, Denmark; something she considers her ultimate masterpiece. Her smile lights up the walls as she talks about the cooperation between her and the owners which dates as far back as 2010.
The gold leaf she's applying to the walls has a value of over 20,000 Danish kroner, but it could not be in better hands – Heidi is Denmark's undisputed expert in advanced decorative painting techniques. It's her you need to call if you want a wall painted to look like it's made out of wood or marble, if you're looking for some modern street art, if you want it to look like books are painted on the wall or if you are looking for unique hand-printed wallpaper (which can reach up to 20,000 Danish kroner per roll if it includes gold print).
A master craftsperson
Heidi qualified as a painter and decorator in 1998, a graduate painter in 2009 and joined Salon – the International Society of Decorative Painters – in 2010. The Association only has 200 members, so there is absolutely no doubt she truly is a master in her craft.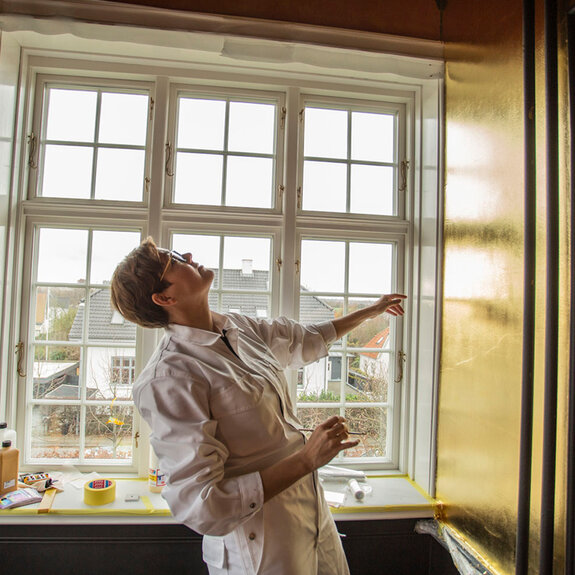 She is highly sought-after both in Denmark and abroad, and by both private design enthusiasts and well-known companies such as Louis Poulsen, who feature her wallpaper in their catalogue. But more than anything, she is a passionate advocate for the painting profession:
"From the very first moment I recognised what a skilled decorative painter was capable of, I made it my aim to hone my skills: I'm enormously proud of being a painter. It is a craft which requires precision and patience, and one in which creativity can make a huge difference. It's not something that everyone can master."
Part of the proud history of the painting profession
As soon as you get up close to some of her work, you'll see how right she is. You won't be able to stop yourself knocking on the panels to check that they're not real wood – but it really is just paint. You'll likewise be fascinated by her brushwork that provides realistic looking depth to her art.
Heidi, however, isn't one for basking in the admiration of others. Instead, she points out that her work is nothing more than a continuation of a long and proud history:
"A hundred years ago, you had to be able to paint photographically when you got a journeyman's card. So you needed to be able to paint both the house itself, and a portrait of the person who owned it. Part of the training back then also included learning how to draw and imitate marble and wood. Actually, lots of the famous old Danish golden age painters started off as building painters."
The need for high ceilings
Heidi is also putting the finishing touches to a ceiling covered in clouds in the patrician villa. The effect is amazing, and is proof of just how far Heidi's ambition reaches:
"In the past, painters created the most outrageous decorations in people's homes. Nowadays, 80% of paint work is legwork, and only very little of it is creative. But luckily that's changing. People want colours and wallpaper again. I also think that there are lots of young people starting training today who are really creative and who are passionate about creating decoration. They really want to learn about the old techniques, and that fills me with hope. For both painting itself and the profession."
Workwear needs to be properly considered
It is probably not surprising then that Heidi also believes in the importance of quality and professionalism when it comes to her work clothes. As she says,
"I spend half my time in them. They need to fit properly, and the length of the trousers needs to be right. It might sound silly, but I really have to know they won't shrink when I wash them. They need to be flexible to adapt to any working situation, whether I'm stretching, bending, on my knees or reaching up. These stretch trousers are really great and practical."
"It's really important that there is sufficient cushioning around the knees, as we need to take real care of them in this business. It's no good if the kneepads slip so that half your knee ends up on the hard floor. The pockets need to stay flush with the body so they don't get caught on the ladders, and jumpers, T-shirts and shirts need to be extra long so we're not unwittingly showing off too much flesh when working low down. Last but not least, they also need to be breathable and comfortable – a bit like sportswear – so that you don't sweat too much when it's hot, or get cold when it's winter."
"That's why wearing a pair of Kansas trousers or a jumper gives you a homely feeling"
Kansas feels like home
"Kansas workwear has been with me all the years I have been working as a painter. I like the fact the clothes are made with great craftsmanship and have a bit of a history behind them. These are things I value in my work – fresh thinking, but always keeping a little bit of the original spirit. Remembering core skills and values. That's why wearing a pair of Kansas trousers or a jumper gives you a homely feeling.