No half measures
It was only after high school that Hans Henrik noticed the magic of the carpentry profession. How insanely rewarding it is to use your skills to transform loose thoughts and ideas into concrete products and designs. And now he's hooked; to the point where being a carpenter's apprentice just doesn't cut it.
So, he also helps his dad produce quality kitchens; and has started a design, production and assembly business with a good friend.
Overtime.
And lots of it.
"Obviously there is a lot of work. And many hours beyond the 9-to-5. But it's about passion – and that's what you do!"
And Hans Henrik's passion is undeniable. It lives in the raw materials and in the unlimited possibilities of what he can create with his hands. And his mastery goes beyond wood, to stone and steel. "The training for carpenters has given me some very valuable methods and approaches to the work, which I can easily transfer to other materials. It's a huge win. "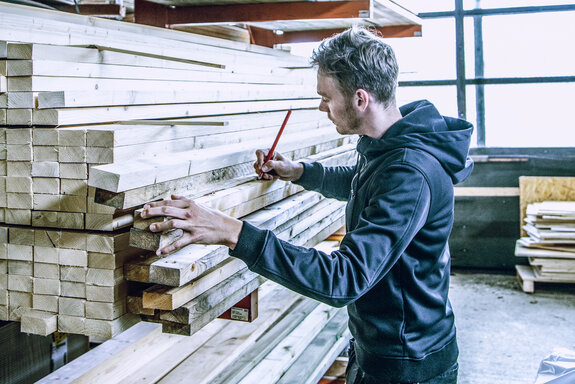 "I love jobs where everything falls into place."
For Hans Henrik, it's more than craftsmanship. It's about crafting masterpieces. Every time. No cutting corners. "I love a professional challenge and get more out of complicated jobs," says an enthusiastic Hans Henrik. "Basically, the harder the task, the greater the fun!"
"For example, we restored the roof of an old residential property that is protected for conservation. And that was pretty complicated. Actually, it's the most complicated job I have done so far. We designed the substrate that lies beneath the roof tiles and had to bring our A-game, because that is the foundation that carries the whole structure. Getting it right means the roofers can do a good job," explains Hans Henrik. "The reality is that no one will ever see the substrate, but everyone comments on the beauty of the finished roof. And that's what is so special about conservation projects: that you are allowed to really exercise your craftsmanship and creativity, because the solution is never standard or straightforward."
Steel, stone and pride
When Hans Henrik exchanges his carpenter's jacket for his business-owner's blazer, it's the special commissions that make his heart beat a little faster. And make him beyond proud.
"I design, construct and manufacture stone worktops myself for the kitchens I produce with my father. I now do the same for smaller furniture made of stone and steel – coffee tables for example. And we have just received an order for a marble coffee table in Aarhus. This is around our twentieth bespoke designed table so far.
"Hans Henrik's eyes light up when he talks about his other beloved material. Stone."I have been working with stone for a year and it is a challenging material that's harder to work. "And how was Hans Henrik facing the difficult challenges?
"Stone can look very different, depending on how you put it together. There is a lot of structure in stone; variance in color, etc. But as I said, harder work equals more fun!"
Craftsmanship is at the core of our work and must be seen in our kitchens
Grandfather
set the standard
The fact that Hans Henrik chose to go "the kitchen way" is no coincidence. His grandfather started HTH Kitchens, now part of the Nobia group. So, the work of producing high quality kitchens is a proud family tradition that Hans Henrik and his father continue today.
"Craftsmanship is at the core of our work and must be seen in our kitchens," Hans Henrik says. So, the quality is on par with the best Danish kitchens. It just comes at an easier to swallow price.
"Our kitchens are produced and assembled in Ukraine, and the task is then to assemble them in our customers' homes and customize the designs with our own stone worktops from Haahrstenkjær. Customers get better kitchens at better prices and everyone is happy. And I really like happy customers," laughs Hans Henrik.
Take the rough
with the smooth
Every carpenter's apprentice knows that some days are less interesting than others. But even the more routine tasks can be made easier with a little external assistance.
"Some jobs just call for me turn off my head and turn on the music."Jobs like installing insulation for example aka the craftsman's kryptonite!
"Insulation is terrible! It's not a big challenge in terms of craftsmanship, but you're itchy everywhere. Especially on a hot summer's day. The fibers stick to your clothes and follow you into the car for the ride home. And when you have changed and climb back in the car, the fibers attach to your clean clothes. It can drive you mad!"
Kansas - A Workwear
​​​​​​​game-changer
So, Hans Henrik got an idea. Actually, a really good idea if he says so himself. Why not talk to the Kansas product development team and vent his frustrations with insulation material – frustrations he was sure many workers felt on a daily basis?
At Kansas, input from craftsmen is vital. It is their experience, special requirements and desires for work clothes that help define our products and ensure the continued development of many different designs. And Hans Henry's initiative got the eyes of Kansas experts on this very itchy problem. The solution? The Crafted Aero Shield jacket, a part of the Kansas Crafted collection that effectively prevents the penetrating of insulation fibers.
"It's a game-changer. And even though insulation will never be my favorite material, it's now easier to endure."
Many hats.
And the clothes to fit.
With his many functions, it's not surprising to hear that Hans Henrik values good work clothes.
"Quality gear is important. But looks are high on my list as well. I'm always meeting clients and represent either my own business or someone else's. I have to look the part."
"The new Kansas Crafted series of lightweight materials is absolutely amazing. I tend to get hot in no time, so I need thin clothes with good flexibility," he says and continues.
"I wear long pants because they protect the body. But I avoid kneepads because I get too hot. I like the new slightly baggy Crafted UltraPerformance pants. They look great and are so easy to wear – by far, the easiest work pants I've tried. They come in black, but the bold khaki color better suits my profession, because black will quickly look dirty if you don't have a compressor to blow off sawdust and chips.
"The set is completed with a polo T-shirt "because it looks really good!
"So, while durability and functionality are key to Kansas products, vanity plays its part in the mix."I love when a job solves a problem and looks amazing – and I think the good folks at Kansas feel the same."